Handy Ute Hire In Australia
Perfect for collecting furniture from the store, moving house or as a temporary replacement for a business delivery vehicle. There are few more flexible vehicles than the ute. So if you need to make a cargo delivery, support a house move or need a temporary delivery vehicle, a ute rental is the answer.
At Alpha Car Hire we have a large fleet of single cab utes available for hire from just $49 per day with no upfront fees. All our utes also come with a generous 100km per day mileage allowance as standard so you won't be hit with expensive overages like other hire companies.
Why hire a ute
Utes are very flexible vehicles which have an almost endless range of domestic and commercial uses. Utes are often used to help support house moves, saving you the expense of hiring outside contractors, while the large flat deck is also perfect for making outsize deliveries such as furniture saving you the money hiring a large pantech truck.
Because they have guaranteed weight limits up to 1000kg, utes can be used to support business operations of all types including multi-drop delivery, handyman services and landscaping services.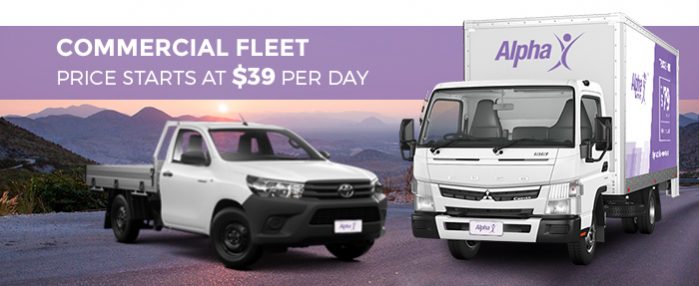 Find your perfect ute hire for your travel or moving needs
The durability of utes combined with their flexibility makes them popular for a range of applications including:
Road trips – With a loading capacity of up to 1000kg , utes are the ideal vehicles for road trips or touring. You'll be ready to go wherever the road takes you.
House move – The flatbed loading deck and high loading capacity make utes the perfect vehicle for supporting house moves. With prices starting at just $49 per day, ute rental works out cheaper than hiring outside contractors. And because you are responsible for your furniture and belongings, the risk of damage is also reduced.
Business move – Business moves can be an expensive and stressful undertaking. By hiring a ute instead of relying on outside contractors, you can save a significant amount of money while ensuring the move goes to plan. Some of our utes also come with three-man seating capacity which ensures you have enough manpower at both ends to load and unload the vehicle.
Features of our ute rentals
Ute hire from Alpha Car Hire is a great way of getting a versatile vehicle at a reasonable price. The open deck of a ute has the same loading volume as a pantech truck but at a significantly lower daily rate. So if you need the volume but not the weight capacity of a truck, ute hire is the most cost-effective option.
Hiring a ute to support a house move is one of the most popular uses for these vehicles. With prices starting at just $49 per day hiring a ute is often more cost-effective than using outside contractors. Contact your local office for more information.
While utes are tough they are not bulletproof. For this reason, we also offer a range of liability protection options for extra protection. Take your pick from our reasonably priced insurance premium excess protection and damage collision waiver options for reduced risk to your wallet and added peace of mind.
So no matter what you need to move or where you need to move it to, a ute has all the lifting capacity you need at a relatively low price. So don't spend more than you have to on an expensive pantech truck or professional removals contractor, hire a ute and do the job yourself for a fraction of the cost.
Get in touch
If you need a ute for either business or leisure, get in touch with Alpha Car Hire today or complete the quote form above. We have a large range of single cab utes available with rates starting at just $49 per day. All our utes are fully checked before delivery and we don't charge any upfront fees. We offer ute hire at the following locations: Brisbane Moorooka, Auburn, Newcastle, Dandenong, Sunshine Coast, and Tullamarine.