Cheap Car Hire Gold Coast Airport
Logistics are one of those things that you don't notice when they've been organised perfectly, but which can ruin all your plans when they're mismanaged. If you're in charge of the logistics in your office or for your family holidays, then you know how important the transport portion of travel can be.
That's why you often spend as much time planning and booking your car hire from the Coolangatta Airport as you do scheduling meeting times or securing theme park passes. It doesn't have to be this difficult. With Alpha Car Hire at the Gold Coast Airport, you can expect an experience that is easy and affordable.
You can hire a beautifully maintained, modern hire car from the airport from $29 per day, which will be cheaper than most taxi rides on the Gold Coast. Alpha Car Hire separates itself from other car rental companies with:
• 500km per day included in your hire agreement, and
• Free pick up and drop off at the Gold Coast Airport
Whether you are after an economical compact car or a people-mover for the whole crew, at Alpha Car Hire Gold Coast Airport, we will have a vehicle for you! Please contact us on 07 5586 6900 today.
Gold Coast Airport Car Hire
The Alpha Car Hire Gold Coast car park is located less than five minutes from the Gold Coast Airport. When you rent a car from the Gold Coast Airport, a free shuttle to your car is provided by Alpha Car Hire.
No matter what time you arrive at the Gold Coast Airport your hire car will be ready and waiting, as Alpha Car Hire can also organise for after-hours collection. All you need to do is:
Someone from our Gold Coast team will be waiting to meet you at the Transit Centre with a purple shuttle bus to take you to your hire car.
If you've come through the international airport, wait until you've passed customs and then call Alpha Car Hire, who will meet you at the Transit Centre just outside of International Arrivals.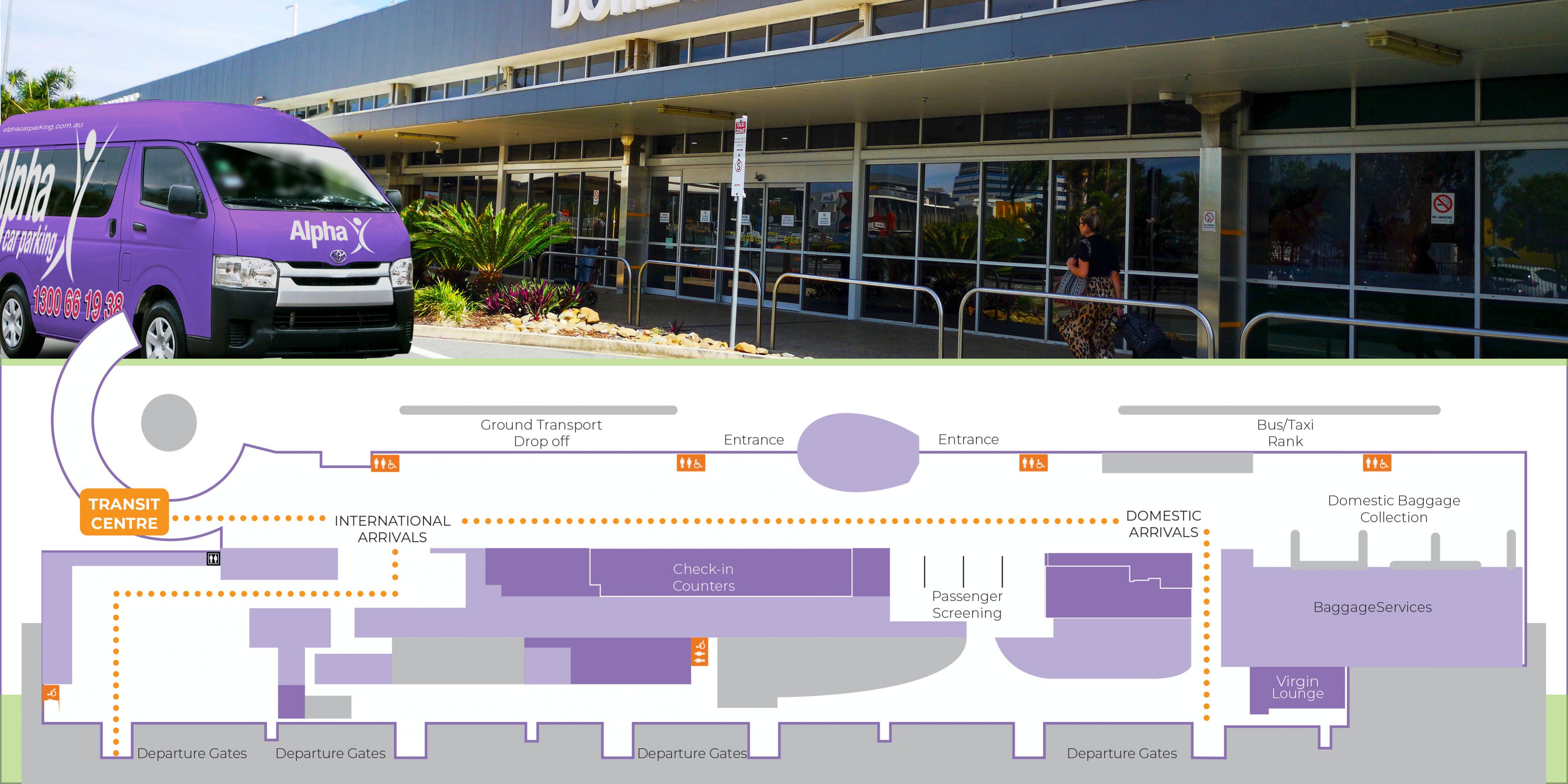 Why hire a car on the Gold Coast
Queensland is a big, beautiful state with so much to offer, and the Gold Coast is teeming with family activities, natural wonders, exciting nightlife and world-class food and wine just waiting to be explored.
All the research, internet searches and travel agents' advice can only scratch the surface of what's available to you when you hire a car on the Gold Coast. As soon as you arrive, you'll be swept away by the constantly balmy summer weather and enchanted by the friendly locals.
There is so much to see and do on the Gold Coast that you will want the freedom to explore where your mood takes you. Whether you want to escape to the natural beauty of the Hinterlands or conquer your fears on theme park rides.
When you have your hire car for your time on the Gold Coast you are in control. If the lines are too long at Currumbin Wildlife Sanctuary you can come back another day. If the day has turned out particularly warm you can detour to the Wet N Wild Waterpark.
Similarly, if you are travelling for work you need to remain responsive to changing plans and schedules to stay competitive. You don't want to miss an opportunity because the taxi you booked didn't turn up and left you stranded on the other side of the city.
Instead, manage the logistics of your time on the coast by choosing a reliable, safe, clean and affordable Gold Coast hire car, from the time you arrive at the airport to the time you leave.
Places To Go From Gold Coast Airport With Your Car Rental
Keep in mind that the weather will be warm, and the sun will be out no matter what time of year you visit the Gold Coast. Travelling in a comfortable and airconditioned rental car on the Gold Coast will ensure you arrive at your holiday destinations cool, refreshed and ready for a day of adventure or conquering the boardroom.
The Gold Coast beaches are a world-famous surfer's paradise and there is nothing more relaxing than driving along the coast to find the perfect place to lay down your beach towel. There are also diverse and unique eateries close to all the beachside hubs with beautiful food and menus bursting with fresh local produce.
The Varsity Lakes suburb is a few minutes away from the airport and is home to Nobby Beach, Miami Beach, Gold Coast Beach, Currumbin Beach, Tallebudgera Beach, Burleigh Beach, and several parks and recreation areas.
Depending on the length of your stay, you can opt to go for short-term rental properties in Varsity Lakes where activities are a walking distance away.
Alternatively, you can take a road trip across the Gold Coast Highway to visit some or all of the best national parks in the region, including the Burleigh Heads National Park, the Lamington National Park, and the Springbrook National Park, among many others.
For the more active and adventurous, take the 45-minute drive to Mount Tamborine for a skywalk through the trees surrounded by lush rainforests and waterfalls. Or if you want to see how the other half live, drive the hour down to Byron Bay, which has a median house price over $900,000 making it more expensive than Sydney. There are also stunning beaches perfect for surfing, scuba diving and whale watching.
So if you're planning a trip to the Gold Coast, take the time now to also plan your hire car from the Gold Coast Airport for a smooth ride from beginning to end.
Affordable truck hire at Gold Coast Airport
At Alpha Car Hire, we offer affordable truck hire services available for both personal and commercial purposes. We understand how stressful moving houses can be. Whether the job will be done and dusted in a day, or you need a truck for a longer period, we have the flexibility, expertise and vehicles for the task.
Select the correct vehicle for your purposes with our Quick Search vehicle find and enter, from which date and for how long you require a rental truck and we can create a fully customised rental package that accommodates your specific needs.
You can also pop into our Gold Coast Airport location or give us a call to chat about the best solution for your moving needs. With a commitment to keeping our prices low, we're here to ensure you maintain a realistic budget for your next truck rental on the Gold Coast.