Australia's vast waters are home to a diverse marine ecosystem. But whales–and lots of them–swim across these waters every year and allow for some amazing watching under a controlled programme that allows no impact on their natural progress. As a matter of fact, almost 60% of whales from around the world are found here. This is why if you want to see whales in action, Australia–especially the East Coast–is the place to be for some serious whale watching. Check out these spots and marvel at the gentle giants of the sea.
Queensland
Hervey Bay
Image by www.bluedolphintours.com.au
Because of its ideal location, Hervey Bay (pronounced HARVEY BAY) is a favourite playground of mommy and baby whales. Expect humpback whales frolicking in the azure waters during mid-July. They stay in the area for a few months, and head back south during the last weeks of November. The waters are quite safe for the calves because nearby Fraser Island provides protection, so don't be surprised if you see baby whales playing around Hervey Bay. If you want to take a closer look, book a whale watching tour that usually comes with a delicious buffet lunch. Photo opportunities of whales breeching are easily found here!
Whitsundays
Image by www.whitsundayescape.com
If Hervey Bay is the whales' playground, then Whitsundays is the nursery. The warm and calm waters provide the perfect birthing spot for momma whales. This place currently doesn't offer formal watching tours, but you don't really have to book one since around-the-island tours include whale watching as a bonus. As you marvel at the lush surroundings, be amazed at pilot and humpback whales as they splash and jump around. You can also go on a helicopter or seaplane flight for a more spectacular view of the whales if the budget allows.
---
New South Wales
Port Stephens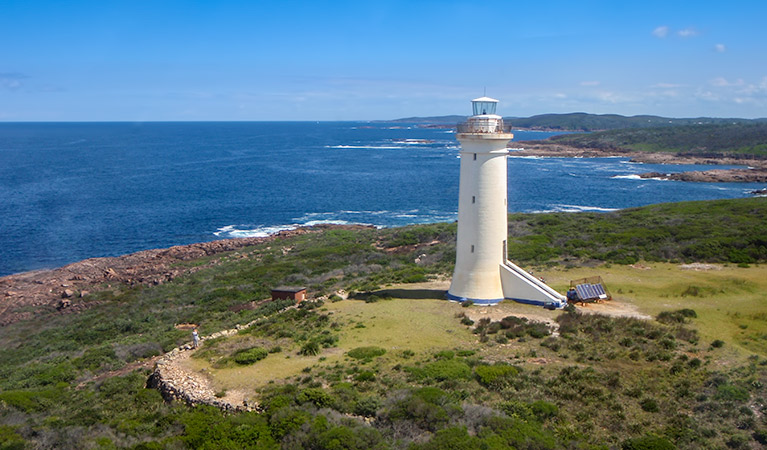 Image by www.nationalparks.nsw.gov.au
The beaches of New South Wales also provide the perfect spots for whale watching. Head to Port Stephens and see up close the magnificent humpback whales as they jump and do somersaults in the air. The days between June and August are the perfect dates to drop by. You're sure to see plenty of whales in August since it's the annual northern migration season. As a bonus, you'll also see bottlenose dolphins swimming and impressing the crowd with their acrobatic skills.
Eden
Image by www.visitnsw.com
A haven for a variety of whale species, Eden is a watery wonderland for whales that migrate back to Antarctica from September to November. Eden's warm waters create the perfect environment for mating and giving birth, making it a popular spot among different kinds of whales. Eden's waters is also rich in krill, the whales' favorite snack. From mother whales with calves in tow to large pods, you'll see plenty of whales here as they sink their huge chompers on krill and other small crustaceans.
---
Victoria
Warrnambool
Image by https://www.visitgreatoceanroad.org.au/
A trip to Warrnambool wouldn't be complete without checking out Logans Beach. Its warm waters attract plenty of whales that travel back to their nursery from May to October. Aside from humpbacks, it's common to see orcas and sperm whales swimming and playing around. The beach's Lady Bay is the perfect grounds for birthing mothers and their calves because the spot is well protected and the waters are warm and calm. When planning a whale watching trip to Logans Beach, don't forget to bring a telescope or binoculars for a better view.
---
Before you book a trip to any of these amazing destinations, research first on the perfect months to visit. Whale watching season usually starts from May and ends in November, although Victoria's whale season is from January to May. If you're planning to visit multiple beaches, don't forget to book a cheap car hire for a hassle-free trip.