We've gone past the 6 month mark and it's starting to feel like Christmas in the land down under (yes, we still do Christmas in July).
Markets today aren't just for produce and livestock. You can get virtually anything and everything there from gourmet products to arts and crafts, to fashion, to all sorts of other knick knacks. So stretch your legs and prepare your shopping bags, because we'll let you in on some of Queensland's most exciting weekend markets.
Markets in Brisbane
The Brisbane French Festival 2016 (South Bank)
Find all things sleek, chic, and Ç'est Magnifique in Le Festival (also known as Brisbane French Festival). From the 8th through 10th of July, watch South Bank transform into a crazy and beautiful centre for French culture, entertainment, and cuisine. It's a one stop place for you to shop, eat, and spend the day.
Add effortless elegance and timeless silhouettes into your wardrobe as you scour stall to stall for dazzling clothes and jewelry. Treat your ears to distinct music from La Mauvaise Réputation, Frou-frou et Moustache, Chantefique, Romony Rogers, and other artists. Be captivated by stellar performances care of the Brisbane Academy of Dance, and giggle with the girls of the french cabaret and cancan. Broaden your wine palate with the best of French wine from different regions with wine appreciation and learn all about French table settings, champagne degustation, and other French art and culinary skills from the masterclasses. If you're there for the food, expect great cheese, crepes, pastries, cold cuts, and a wide array of French dishes.
Schedule
08/08/2016 5pm to 10 pm
08/09/2016 9am to 10pm
08/10/2016 9am to 6pm
If you're going to drive a Brisbane car rental with you, be sure to head to the South Bank car park first. Australia has strict parking laws and you wouldn't want any fines when you're supposed to be having fun. For more information on Le Festival, check out https://lefestival.com.au
Twilight Makers Market (Raby Bay Park)
If there's one thing that Cleveland doesn't have a shortage of, it's incredible artisans. What better way to showcase their amazing handcrafted goods than with a regular monthly market?
With over 60 stalls of handmade food, fashion, and other items, the Twilight Makers Market is definitely a must-visit. Once a month, the boardwalk becomes a centre for handmade fashion, homeware, gourmet delights, and so much more. It's a great place to hang out and just listen to awesome live music, taste the different flavours around the world from one of the food stalls, get henna tattoos done, let your kids play in the inflatables, and just shop around for unique items to own or gift.
Schedule
23/07/2016 4pm to 8:30pm
The Twilight Makers Market runs once a month. For more information on schedules and spaces, check out https://www.twilightmakersmarket.com.au  
---
Markets in Gold Coast
Coolangatta Art and Craft Markets
We all know and love the fun, breezy vibe of Gold Coast. Just when you thought the Coast couldn't get any better, they put up 150 stalls by the beach. On the 10th of July, you don't just get to have fun in the sun and sea, you also get stall after stall after stall of locally made crafts, cookies, cakes, preserves, fresh produce, fashion, skincare, toys, candles, soaps, dreamcatchers, pet supplies, and all sorts of baubles and things.
If you're worried about having the same tired old souvenirs, then you really should come down Cooly for this because only hand crafted items like homeware, jewellry, clothing, toys, and other crafts are allowed in this event. You're sure to leave with something unique to own and love or to gift to someone you love.
Remember that these markets have live music, so if you're trying to hold off on spending too much, just hang around, lie down on one of the ground rugs, and relax to awesome live tunes over crashing waves.
Schedule:
10/07/2016 and every second Sunday of the month
For more information, see https://www.artandcraft.com.au/
Broadbeach Art and Craft Markets
Image by Pinterest
Can't make it to the markets in Coolly? No worries! Its partner even is right at Broadbeach, and runs regularly every first and third Sunday of the month. Again, you have over 150 stalls of food, fashion, trinkets, and treasures to choose from so be sure to bring a shopping bag (or five).
Shop for souvenirs, gifts, decors, arts, crafts, and all that is weird and/or wonderful while taking in the fresh sea breeze and basking in the golden sun. It's going to one big, colourful, buzzing atmosphere, showcasing Australia's local talents and locally made and/or sourced products.
These family friendly Gold Coast Sunday markets have been running for over 20 years, so they've thought of everything you could possibly need. Don't worry about bathrooms or parking, because these guys have got your covered. There are toilets around Kurrawa Park and if you're worried about finding a place to park your Gold Coast hire a car, there's plenty of parking in Old Burleigh Road, a car park in the Oasis Shopping Centre, and even on the surrounding streets. Do as the locals do— bring the whole family and eat, shop, hang out, and have fun!
Schedule
17/07/2016 and every third Sunday of the month
For more information, see https://www.artandcraft.com.au/
---
Markets in Sunshine Coast
Nights on Ocean
Image by www.weekendnotes.com
For the last three years, Ocean Street has become more than just the home of amazing restaurants and cafes. Every second Friday of the month, this street close to the cinemas becomes a hub for arts, crafts, culture, food, street performers, music, and so much fun. There's something for everyone as the Nights On Ocean comes alive on the 8th of July.
Bring a few good mates or even the whole family to enjoy a great night out with a happy vibe, great music, delicious food, dance, and all sorts of arts and crafts. There are great food booths so be sure sample from as many as you can. This is the perfect opportunity for you to try different food from different countries. Celebrate the weekend with friends and/or colleagues and have a few drinks in one of the pop up bars while live music plays. Whether you want to watch from the restaurants and cafes along the strip, or be part of the market and snack on one of the food booths, you're sure to have an awesome time.
Schedule
08/07/2016 and every second Friday of the month 5pm to 8pm
For more information, go to https://www.nightsonocean.com.au/
Crystal Waters Country Market Conondale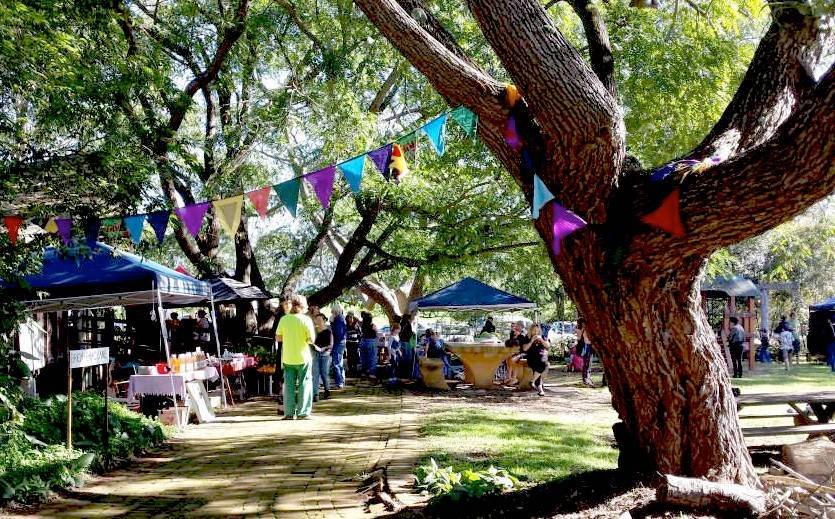 Photo by crystalwaters.org.au
The Crystal Waters Country Market proves that the journey to a market is as much of an adventure as the market itself. Drive a Sunshine Coast rental car and take the scenic route from the Steve Irwin Way, through Beerwah, and finally to the little town of Conondale, where you'll find lush bushlands, quaint coffee shops, charming structures, and an overall cozy town.
When you think you're about to get lost in the middle of nowhere as you drive along Conondale, don't stop. Just keep going and you'll find the Crystal Waters Eco Village on Kilcoy Lane. Enjoy the pleasant country drive as you pass through farms, 650 acres of bushland, the occasional appearance of wildlife, camping and caravan sites, charming B&Bs, and the overall eco-friendly  community.
Reaching the market always going to be a relaxing event. You have the laidback feel of this beautiful rural village, spectacular views of the countryside, live music playing, fresh produce, handmade delights and crafts, and so much more. Don't just drive and shop. Make this a weekend family trip! Enjoy the rest and relaxation that the countryside has to offer with the markets as one of your highlights.
Protip! There's a stall that offers massage and reflexology. Don't miss out! It does wonders for a weary morale
Schedule
02/07/2016 and every first Saturday of each month (except January) 8am to 1pm