Truck Hire
Moving house can be an expensive and stressful exercise. So why not ease the burden by hiring a moving truck from Alpha Car Hire? Hiring a truck is not only more cost-effective than contracting a specialist removalist, but it also ensures that your personal belongings are kept safe.
At Alpha Car Hire, we have a range of large and small trucks available for hire at competitive rates. All our trucks also come with a generous 100km per day mileage, FREE roadside assistance and basic protection as standard to help ensure your move goes smoothly.
Why rent a moving truck?
Hiring a truck has several advantages over contracting a removalist. You will save a significant amount of money compared to using a contractor. Let's do the maths: a typical removals firm charges upwards of $120 per hour, while truck rental costs as little as $79 per day. You could save hundreds of dollars by doing the job yourself.
Rental trucks are also available in a range of sizes up to 1,500kg carrying capacity. This gives you the flexibility to choose a vehicle of the right size without having to pay more than is necessary. All our trucks also come with a generous 100 km per day mileage allowance which is more than enough for a typical house or business move.
When renting a truck from Alpha Car Hire, we can also supply a range of accessories to help your move go smoothly. Contact your local office for a list of the equipment we have available.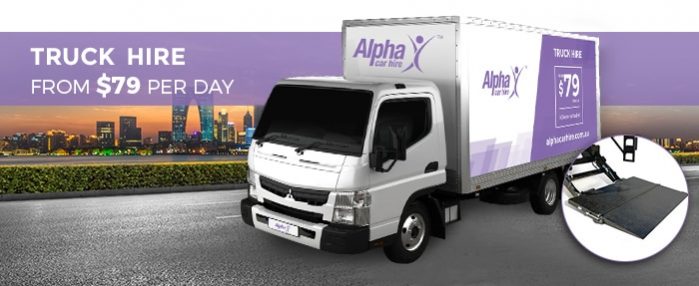 Truck hire for your moving needs
Our rental trucks are suitable for a range of applications, including:
House/apartment move – Renting a truck is a great way of reducing your moving costs. You can save many hundreds of dollars by renting your very own budget moving truck compared to hiring a professional removalist firm. And because you will be responsible for packing and handling your possessions, the risk of breakages will also be reduced.
Office move – Office moves can be stressful and expensive for both you and your employees. Hiring a truck to do the heavy lifting can make life easier, not to mention cheaper. Because office moves often have to take place outside of hours, hiring a specialist removals firm can be an expensive proposition.
Renting a truck and doing the job yourself will significantly reduce the cost and give you more control over your moving schedule. Having access to your own vehicle will also be more convenient should something go wrong during the move.
Features of our moving truck rentals
Alpha Car Hire offers a range of trucks with lifting capacity up to 1,500 kg – this is enough capacity for a typical three-bedroom house – so you should be able to complete the move in a single trip.
You won't have to worry about lifting either because all our trucks are fitted with hydraulic tail lifts to aid loading and unloading. We can also provide a range of accessories including trolleys to make the job easier. These are all available at reasonable rates; please contact your local office for more details.
And don't worry, all our trucks can also be driven on a regular driving license. There is no need for any special license or permits. The only stipulation is that the driver is 25 years old or older.
Truck rental may also be more cost-effective than renting a van or pickup. A truck can typically carry more payload so you should be able to complete the move on a single trip. You will also have enough space for large furnishings such as sofas and wardrobes. Loading a truck is also much easier than a ute because they are fitted with tail-lifts.
Don't pay more than you have to and enjoy the flexibility of having access to your own truck by renting a moving truck from Alpha Car Hire today!
Want to hire a truck?
If you would like more information about our budget moving truck hire service, give us a call on 1300 227 473 or complete the booking form above. We offer small and large moving truck hire with up to 1,500 kg lifting capacity at key locations including Brisbane, Sydney, Melbourne, Gold Coast, Sunshine Coast, and Newcastle. And with rates starting at just $79 per day, hiring a truck is much more cost-effective than contracting a removalist.
Truck rental FAQs
When it comes to moving truck hire, the process should be quick, easy, and stress-free. Here are a couple of common questions our clients ask the team at Alpha Car Hire.
If your question about how to rent a truck wasn't answered below, visit our frequently asked questions or get in touch today.