The East Coast of Australia spans from Melbourne, Victoria to Cairns, Queensland and is the longest costal road in the world. With Sydney, Brisbane and the Gold Coast all stops along the way, an East Coast road trip is a great way to really experience Australia. Main cities and famous surf beaches are part of the experience, however, it is finding the inconspicuous treasures hidden nearby that can turn your generic East Coast trip into a unique adventure. Here are a few secret places we've discovered!

Sydney has lots of famous beaches including Bondi, which definitely should not be missed, however 3.5 hours out of Sydney you'll find something a little more novel.  Worrimi Conservation Lands are made up of 35km of golden sands and deserted beach of Tomaree National Park. One Mile Beach is the perfect place to surf, and the dunes offer a great chance to sandboard too. Samurai Beach is a nudist beach so either avoid it, or pack extra sunscreen! Continuing north you will come to Myall Lakes National Park. The once lighthouse, is now used as accommodation and is a great place to spend a night. You can easily fill in a day swimming with seals, bird watching or canoeing before hitting the road again.
Surfers Paradise is a well-advertised tourist destination in Australia and as a result, it is busy almost all year around. When the crowds become too much to handle, head north for an offshore holiday to Great Keppel Island which is surrounded by coral reefs and has 17 beautiful beaches.
Just before you get to Cairns, you can make a stopover at Hinchinbrook Island. The island has a small resort and some isolated beaches however its most rewarding feature is the Thorsborne trail. The trail only takes 40 people at a time and is a three to four day hike that offers a lot of time to relax and experience untouched forest, streams and waterfalls. The trail takes excluded beaches to a whole new level.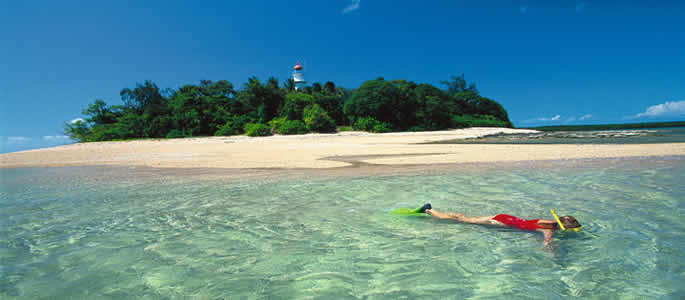 There are plenty of great beaches along the East Coast of Australia, and it is up to you to decide where to stop and what to bypass. Popular tourism destinations are great for obvious reasons but they don't always show case exactly how amazing Australian beaches can be. With spring in full bloom and summer only moments around the corner, there is not a better time to grab some friends, hop on a rental car, and start on your own East Coast tour!