Alpha Car Hire is proud to support the Mark Hughes Foundation who raise vital funding for research into brain cancer, through initiatives such as the annual NRL Beanie for Brain Cancer Round 16, which kicks off today, Thursday, June 30.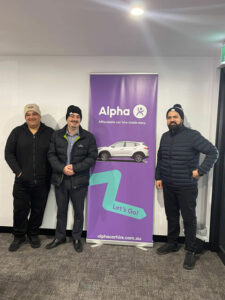 Diagnosed with high grade brain cancer in 2013, Mark Hughes, along with his wife Kirralee formed the Mark Hughes Foundation (MHF) to raise awareness and funds into brain cancer when they experienced firsthand the lack of information and research into this terrible disease. Brain cancer is the biggest cancer killer of children under 10, and adults aged under 40 in Australia, and survival rates have not changed for over 30 years.
Alpha Car Hire's National Fleet Manager, David Beardmore has been involved with MHF as a supporter after meeting Mark through New South Wales Rugby League on a motor bike ride, Hogs for Homeless.
"For someone who has had cancer personally affect them, it was a no-brainer for me to get involved, and I have volunteered ever since" Mr. Beardmore said. "I have been volunteering for MHF for a few years now and I'll be attending the South Sydney Rabbitohs versus Parramatta Eels game this Saturday at Accor Stadium to help with the selling of beanies."
This month, David and the Alpha Car Hire team assisted the MHF with sourcing a van which was donated by Suttons Motor Group Homebush.
Mr Hughes said, "We put the call out to our volunteers and thankfully David and the Alpha team responded. We are forever grateful, especially at such an important time of the year for the Foundation."
Earlier in the week the MHF announced the new $25 million Mark Hughes Foundation Centre for Brain Cancer Research at the University of Newcastle, which will drive critical research, education, and health care improvements at a national scale for brain cancer patients, their families and carers, and health professionals.
"This is a game changing step for brain cancer research in Australia and something we have been working towards since 2014. More progress is urgently needed to improve the outlook for brain cancer patients – who are often in the prime of their lives, like myself – and their families," said Mr Hughes.
Alpha Car Hire is offering the Mark Hughes Foundation supporters 10% off all car hire bookings in the month of August. To Book, visit www.alphacarhire.com.au/ and use the promotional code MHF.
The NRL Beanie for Brain Cancer Round 16 is June 30 – July 3rd, 2022. Come along to any NRL game during this round and help to raise awareness and funds for research into brain cancer.
Alpha Fleet Pty Ltd 35 Berwick Street, Fortitude Valley QLD 4006
ABN: 87 610 415 319 www.alphacarhire.com.au
1300 227 473
If you are interested in making a donation or purchasing a beanie, please visit https://markhughesfoundation.com.au/ or visit any Lowes Australia or selected IGA Stores.
1. The Mark Hughes Foundation, https://markhughesfoundation.com.au/news/mark-hughes-foundation-and-the-university-of-newcastle-announce-new-25-million-centre-for-brain-cancer-research-2/
2. Cancer Australia, https://www.canceraustralia.gov.au/cancer-types/brain-cancer/statistics
Media Contact: Kate Davis – Brand, Media & Performance Marketing Manager
Alpha Car Hire
[email protected]