People Mover Rental Cars
If you're travelling in a large group, a sedan or SUV can be a little on the small side. That's where an 8-seater van comes into its own. People movers provide plenty of space for all the family on long journeys and come with several features which make travelling with a large group of friends or co-workers much more enjoyable.
At Alpha Car Hire, we have a large selection of high-quality minivans for hire. All our vans are selected from leading manufacturers such as Hyundai, Kia and Toyota and come fitted with all the latest safety features as standard. And unlike other rental companies, our 8 seater car hire is available without any upfront fees or surcharges and comes with a generous 500 km per day mileage allowance.
Why rent a people mover car?
An 8 seater rental car has several advantages over hiring a sedan or SUV. They can seat up to eight people comfortably, with each passenger having their own seat, which offers plenty of legroom and independent reclining.
An 8 seat minivan also provides more luggage capacity than a conventional vehicle, so you won't have to compromise on the things you bring with you. This could be a huge advantage if you have young children and need to take a cot and nappies along with you.
Finally, an 8 seater rental car will prove more cost-effective than hiring two cars for the same journey. You will not only save money on daily rental costs but also gas mileage, insurance, parking fees and road tolls.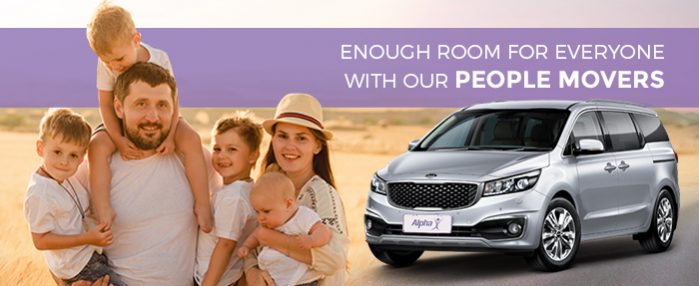 Find your perfect 8 seater car rental for your travel needs
8 seater car hire is perfect for many holiday and travel requirements, including:
Road trips – There is no more comfortable way to explore Australia than in the comfort of your own minivan. An 8 seater minivan allows you and your family to visit the places you want to see in comfort, without being restricted to train or bus timetables. This will also make for a much more relaxing holiday, knowing you don't have a train to catch.
City driving – When visiting a city, it can be tempting to use taxis to get around. But for a large group, this can be stressful and expensive. Hiring a minivan can help to relieve stress by ensuring all the group stay together and will work out much cheaper than using taxis.
Business trips – If you are in town on business, an 8 seater rental car will be more cost-effective than using taxis to get around. You will also benefit from keeping the entire group together so no one will get lost and you will all arrive at meetings together. It will also allow employees to work on those last-minute changes to their presentation.
Features of our 8 seater car hire
There are many advantages to hiring a people mover for large groups. An 8 seater rental car will prove more cost-effective for moving large groups than using public transport or multiple vehicles.
You will also have the benefit of being able to visit the places you want to see and stay as long as you like. This will not only make for a more enjoyable holiday, but it will also make for a less stressful one as well.
And with a large selection of vehicles available from all the leading manufacturers, along with our generous 500 km mileage allowance, you can choose the vehicle that meets your needs without breaking the bank.
So don't risk compromising your holiday by renting a vehicle which is too small for your group to travel comfortably, or force you and your family to endure the stresses and strains of public transport. Hire an 8 seater rental car from Alpha Car Hire for your next trip.
Get in touch
If you would like more information about our range of 8 seater rental cars, get in touch with us on 1300 227 473 or complete the booking form above. We provide 8 seater car hire in the following locations; Brisbane, Sydney, Melbourne, Gold Coast, Sunshine Coast, Adelaide, Perth, Newcastle. So don't compromise your holiday by hiring a car which is too small for your needs, hire a low cost 8 seater people mover from us and enjoy a more relaxing and comfortable holiday.